Eating Like the Gods: Wine and Culinary Arts of the Athenians
Staples of the Greek Diet
In a word, Greek cuisine is best described as fresh. This quality makes many Greek dishes clean and simple, as the pure flavors in fresh, locally sourced ingredients have little need for adornment or enhancement. Olive oil is the foundation of Greek cooking; it is used generously and in almost every dish—from salads to pastas, to casseroles, to grilled meat and seafood. Expect to come across a lot of lemon—often squeezed over fresh salads or seafood—garlic, and herbs such as mint, basil, dill, parsley, cumin, and oregano.
Many Greek dishes are vegetarian, as the traditional Greek diet does not include a lot of meat. Before globalizing forces introduced more fast food, processed foods, and meat to the everyday diet of Greeks, meat was reserved for special occasions, and its consumption was limited for religious reasons.
Despite the adoption of a more westernized style of eating in recent years, Greece still consumes relatively higher amounts of fruits and vegetables and a lower amount of meat than other members of the EU. Greece's favorable Mediterranean climate plays a role in this—as it lends to an abundance of fresh fruits and vegetables and the ubiquitous and heart-healthy olive oil that remains the basis of its cuisine. Legumes such as lentils or fava beans serve as a healthier protein alternative, and are commonly used in soups, stews, and salads.
Dairy is an important staple of Greek cuisine. From a wide variety of cheeses, yogurt, and tzatziki sauce, the 'Greek experience' is not complete without trying some of the country's fresh and delicious dairy products. Last but not least is honey, which features heavily in Greek desserts like baklava and is often used as a sweetener –mixed in with yogurt or even alongside bread.

Where to Eat in Athens
As the major cosmopolitan city of Greece, one can find top-quality dining experiences covering a wide variety of different cuisines—from Japanese, to French, to Indian. Given the fresh and local nature of food in Greece, your taste buds (and body) will thank you for spending sufficient time exploring Greek cuisine during your time overseas. Here are a few recommendations from Illume for some of the best restaurants for Greek food in Athens:

1. Butcher and Sardelles –Formerly two separate neighboring restaurants (The Butcher Shop and Sardelles –focusing on meat and seafood respectively) now merged, this establishment is sure to be a crowd pleaser. Portions are large, but the half-portion option makes it easy to share and sample different dishes. Located in the hip and nightlife-heavy Gazi neighborhood, Butcher and Sardelles is a great place to stop for a nice, reasonably priced dinner before a night out. There is a garden area for dining that offers a nice respite from the city, and the restaurant is conveniently located a couple blocks from the Kerameikos metro station.

2. Seychelles - Located in the up-and-coming neighborhood of Metaxourgio (adjacent to Gazi), this restaurant is a bit off the beaten path but worth the extra effort to get here. The open kitchen and adjoining bar create a casual atmosphere, and the décor and menu are a touch more modern than the traditional taverna. Patrons rave about the beef cheeks and the parpadelle with kovurma. This is a great place to come for mezedes as well, with a great selection of locally-sourced meats and cheeses from different parts of Greece, in addition to local beers.

3. Psaras Taverna—Also called "I Palia Taverna Tou Psarra" ("The Old Tavern of Psarra"), this is a popular taverna on a hill in the touristy Plaka neighborhood. It is slightly removed from the main tourist track and offers one of the most pleasant al fresco dining experiences in all of Athens. The restaurant is reached by a set of stairs and offers a multi-tiered patio, as well as a rooftop garden from which patrons can view the Acropolis. Leafy trees interspersed throughout the patio make this a lovely place to enjoy traditional Greek food and drink in the company of family and friends.

4. Varoulko Seaside – With Michelin-starred head Chef Lefteris Lazarou at its helm, Varoulko Seaside has become one of the most well-known restaurants in Greece. Since the founding of its initial iteration, Varoulko, in the port of Piraeus in 1987, it has racked up an impressive number of awards and recognitions. Come for the fresh, expertly-prepared seafood and stay for the beautiful breeze and sea views. Varoulko Seaside in Piraeus is open daily for lunch and dinner and is accessible from central Athens by the metro.

5. Kanella –Another Gazi neighborhood gem, Kanella is a great choice for some delicious, seemingly home-cooked Greek cuisine in a lively, airy atmosphere. Outdoor seating is offered in the summer, but the whitewashed interior décor accompanied by large windows keep the environment bright and cheery even if seated inside. At Kanella, patrons can expect to find consistently high quality traditional food prepared with care at very reasonable prices. Be sure to try their zucchini and avocado salad and seasonal lemon pie if available—and don't forget to bring your appetite!
What to Try in Athens
Food
Horta, or wild greens, are served throughout the year at restaurants throughout Greece. They are often served boiled with some fresh lemon juice and salt as either an accompaniment to seafood or an appetizer. Sometimes they are mixed with fresh cheeses and vegetables to make a salad. Common horta include dandelion, sorrel, purple amaranth, arugula, chicory, mustard greens, and fennel, among others. The horta you will find in a restaurant depends on the season and the area of the country in which you are traveling, so try ordering some as a great introduction to the flavors and climate of a particular region!
If you leave Greece without having tried anything other than feta, you will have missed out on a very important element of Greek cuisine. In fact, a 2011 report ranked Greece as the highest per capita consumer of cheese in all of the European Union. While in Athens, broaden your horizons by trying some Greek cheeses like the popular and versatile Graviera, a hard, traditionally Cretan cheese made from cow's, sheep's, and goat's milk. It has a slightly sweet and fruity flavor and can be grated, fried (as saganaki), served as a table cheese, or incorporated into cooked dishes. Manouri is another great choice. It is a semi-soft fresh cheese made as a by-product of feta. It is very creamy and mild and is great in salads and appetizers or paired with honey and nuts as a dessert. If your mouth is not already watering, you might consider Kasseri, a semi-hard cheese made mostly from sheep's milk with no more than 20% goat's milk. It is a springy, stringy cheese with a strong, salty flavor and odor, yet a sweet aftertaste. Like Graviera, it is a great table cheese, but is also a good choice for omelets, sandwiches, and pastries.
Surely you can stick to some of the most recognizable Greek dishes like mousaka or souvlaki and still eat incredibly well during your time overseas, but don't be afraid to step outside of your comfort zone and try something new! Ask your server for a recommendation or try the special. With the Greeks' tradition of using fresh, high quality, ingredients in their cooking, it'll be difficult to go wrong with whatever you decide to order!
Wine
If you don't know much about Greek wine or haven't tried it before, you might want to begin with one of the four so-called "ambassador grapes" of Greece—Xinomavro, Agiorgitiko, Assyrtiko, and Moschofilero.
Xinomavro, of the north, produces a rich, full bodied red wine that is heavy in tannins. Its complex aroma includes hints of sundried-tomato, black olive, and spices. This is a wine that only improves with age and pairs well with red meat and other hearty dishes.
Agiorgitiko is a red grape that produces a lovely, well-balanced wine. It pairs nicely with a wide variety of foods due to its soft tannins and moderate acidity—which also make it a very versatile wine. Although it holds its own quite well, Agiorgitiko is often combined with other wines to create blends ranging from whites, to roses, to deep reds, to dessert wines. It is typically grown near Nemea in the Pelopponnese.
Assyrtiko is a white grape known for growing in the arid, volcanic ash laden soil of Santorini and other islands in the Aegean. The vines are woven into a unique basket shape on the ground in order to protect the grapes from the winds off the sea. The resulting wine is very dry with citrus aromas and a mineral aftertaste that recalls the volcanic soil in which it is grown. Assyrtiko maintains its acidity as it ripens and pairs well with grilled fish.
Lastly there is Moschofilero, a grape grown in the verdant and mountainous countryside of Mantinia, not far from Athens. The grape has a grayish pink-purple skin with a white flesh, resulting in a lovely off-white blanc de gris color. Moschofilero has strong floral aroma, bright acidity, and slightly spicy notes. Pair with salads or other light fish or pasta dishes seasoned with fresh herbs.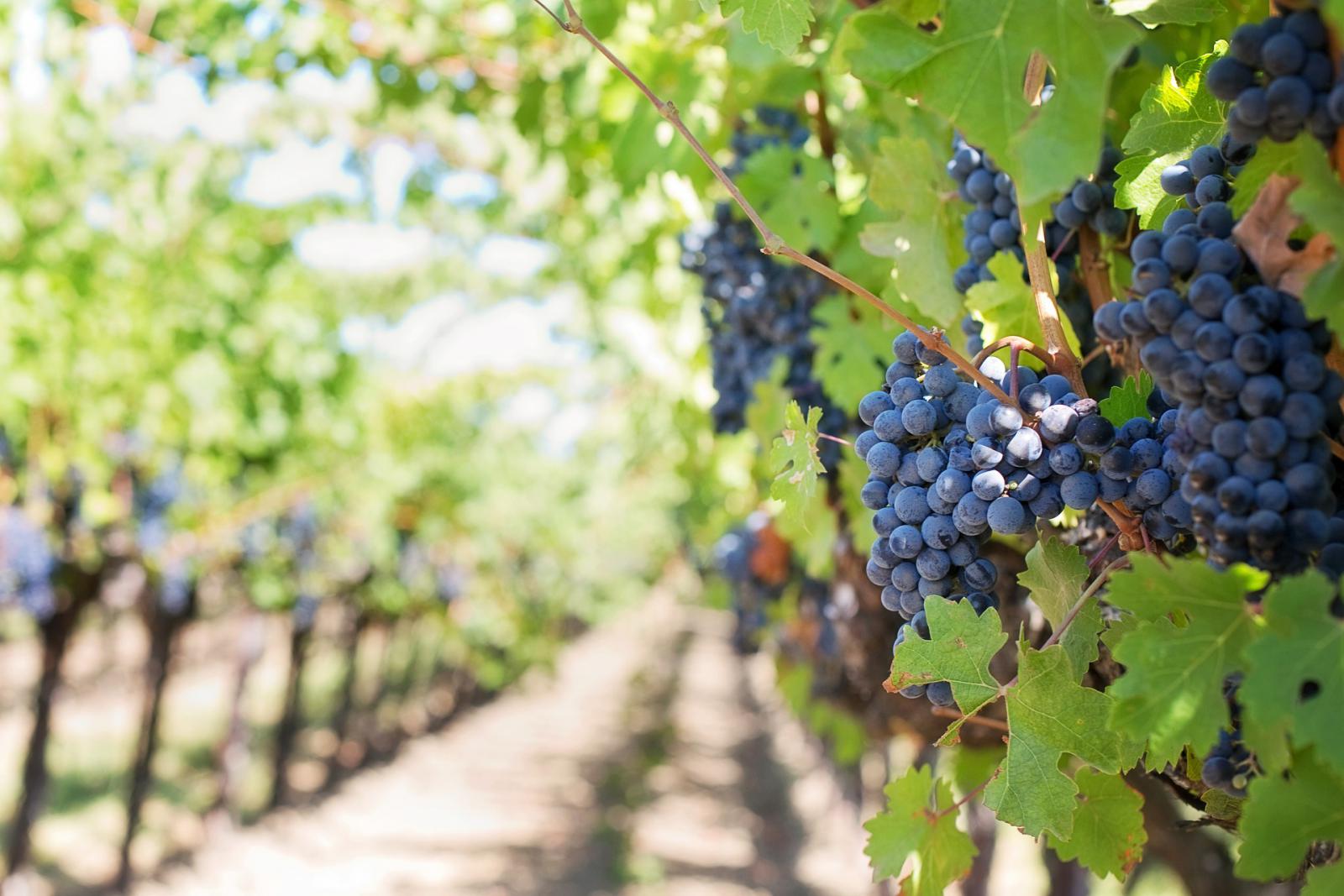 ---
Exploring a new cuisine in the company of friends—both new and old—is a great way to introduce oneself to a culture, get a glimpse of daily life in foreign lands, and create lasting bonds of friendship and understanding between travel companions and new faces overseas. Contact Illume today to begin planning a customized program of your own – combining visits to museums and archaeological sites with an exploration of local cuisine, wine, and other cultural treasures of Greece.