In the 4th century, Helena, the mother of the Emperor Constantine, was one of the more famous early pilgrims who traveled to the Holy Land to explore places connected with Jesus' life and brought back to Rome pieces of the Holy Cross and other relics. Today we can't transport relics, pieces of buildings or things found in archaeological sites, but the desire to bring home something that reminds us and connects us with our pilgrimage is no less intense. Indeed, the custom of bringing home souvenirs to our loved ones is an integral part of our journeys as citizens of the world.
While your itinerary to the Holy Land is organized primarily around visits to historical and religious sites—and not around shopping—there are many opportunities to find beautiful and meaningful objects throughout the land. We would like to provide an orientation for these opportunities so you can plan ahead.
There are four areas of focus for this article: the Sea of Galilee region, the Dead Sea region, Bethlehem and Jerusalem. There are other areas of great artisan and merchandising value—such as Haifa, Akko, Zefat, and Tel Aviv, but these four are of primary importance.
Sea of Galilee
The area of the Sea of Galilee in Northern Israel offers a variety of opportunities to purchase unique and thoughtful gifts from the Holy Land. Many of the sacred sites have their own gift shop or are located near one. Not far from the Basilica of the Annunciation in Nazareth is a winding street market similar to traditional covered Middle Eastern souks, where you will find clothing, food products, textiles, ceramics, and more. In Cana, shops outside the "Wedding Church"—where Jesus turned water into wine—offer sweet Israeli wine to take home to loved ones. The wine is said to bless the marriage of those who receive it as a gift. The Mount of Beatitudes, Tabgha (site of the multiplication of the loaves and fishes), and Magdala all offer small shops with a variety of hand-made and more commercial products. One of the most impressive gift shops in the Galilee region is at Nof Ginosar—a hotel, conference center, and museum where a first century boat exhumed from the Sea of Galilee is on display. This shop is large and offers a wide range of gifts, including religious items, gifts, cosmetics, gourmet foods, apparel, home goods, and other small souvenirs. If you are staying in Tiberias, you can visit one of the showrooms devoted to wholesale diamond sales where retail customers can get good deals.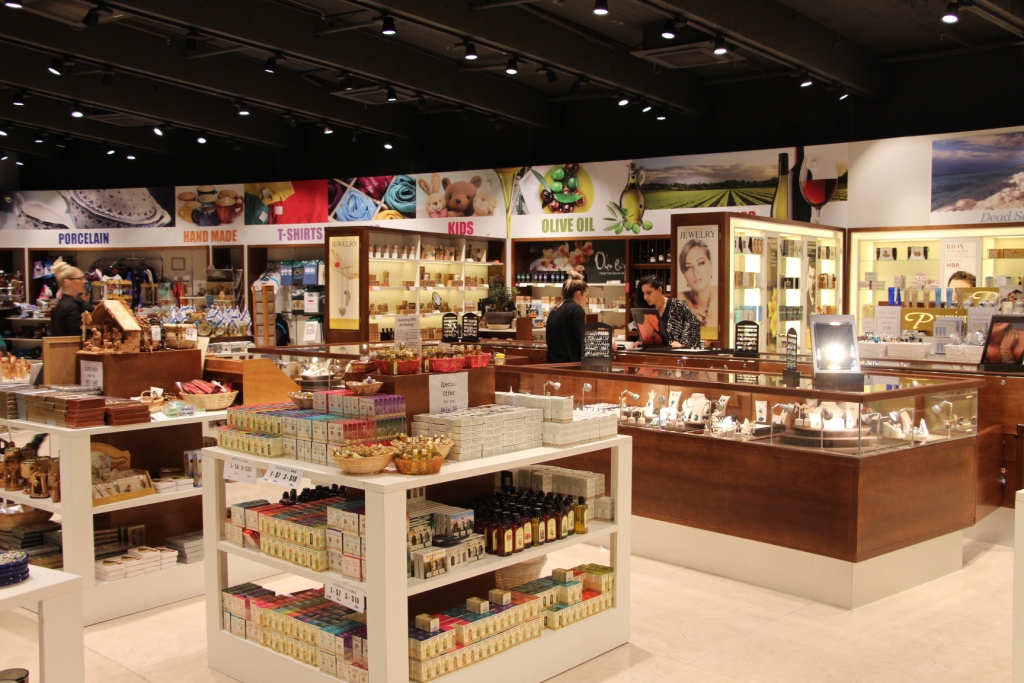 The well-stocked gift shop at Nof Ginosar (photo courtesy of Nof Ginosar).
Dead Sea
Although Dead Sea cosmetics are available at many stores throughout the Holy Land, you'll want to save all your cosmetic-shopping for the area of the Dead Sea. Masada offers a large gift shop with an impressive selection of products from Ahava, perhaps the most well-known Dead Sea cosmetics brand. The minerals found in the Dead Sea and in Dead Sea cosmetics are said to heal skin ailments such as acne, eczema, and psoriasis; strengthen and soften the skin; and even help relieve inflammatory diseases like rheumatoid arthritis by improving circulation. It's worth taking a dip if you can—or at least purchasing a bar of Dead Sea mud soap to try at home! If you are looking for other shopping options during your time in the Dead Sea region, Qumran also offers a nicely stocked gift shop that includes food items, clothing, beauty products, and some smaller souvenirs.
If your travels happen to take you to Jericho or nearby Hebron (both in the West Bank), be sure to leave room in your suitcase for the famous Hebron Glass. Though glassmaking was not invented in Hebron, the city gained renown as a center for glassmaking during the Middle Ages. Hebron's Old City even has a glassmaking quarter, where pilgrims throughout the centuries have come to admire the work of craftsman who continued to pass this trade down to younger generations. Today a couple of family-owned factories north of the city continue the tradition, where there were once 11 factories according to late 19th century Islamic court records. Due to a reduced number of tourists over the past 30 years, much of the pieces made today in Hebron are shipped and sold overseas or elsewhere in the Holy Land—so you'll most likely see it at other locations during your travels.



Hebron Glass and other wares at a souvenir shop in Jericho.
Perhaps the most recognizable Hebron Glass pieces are those that contain its signature cobalt and turquoise, often combined with a bit of green or brown to create a unique, opaque, swirled effect on the glass. When shopping for Hebron glass, be sure to hold a piece of the glass up to the light to see how the color changes from cooler blues to warmer greens and browns when the light shines through. When placed in a window, your piece can change colors throughout the day!
Bethlehem
One visit for which you should be sure to reserve some space in your suitcase is Bethlehem—the shopping destination for crafts and carvings made from olive wood. Located in the West Bank about 10-15 minutes from Jerusalem, Bethlehem is home to a dwindling community of Palestinian Christians, many of whom owe their livelihood to this craft. Between 1950 and 2016, Christians' share of the population in Bethlehem dropped from 86 percent to just 12 percent. This is reflected across the West Bank, in which Christians now represent only 2 percent of the population, down from 5 percent in the 1970s. Living in Israeli-occupied Palestine presents many challenges for those of all faiths, and many Palestinian Christians have found that there are greater opportunities for economic success in Israel or overseas.
Those that have stayed in Bethlehem take great pride in their heritage as Christians living in the city where Christ was born. This pride is evident in the hard work they put into crafting their beautiful olive wood carvings, figurines, and other products. Creating and selling olivewood products is often a family affair, and visitors can expect to be welcomed like family as they cross the threshold into these entrepreneurs' beautiful shops. From intricately carved full nativity scenes, to ornaments, to kitchen utensils, to animal figurines, you'll be sure to find a thoughtful olive wood gift for all budgets and tastes. Many shops also offer a variety of handmade jewelry, and even religious artifacts.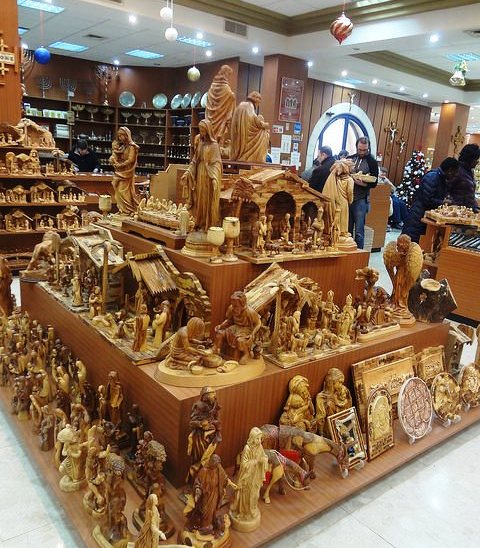 Olive wood figurines at a family-owned shop run by Palestinian Christians in Bethlehem.
Jerusalem
As Israel's most culturally-rich city, Jerusalem offers a remarkable shopping experience that mirrors the city's diversity. Perhaps the most notable shopping is found tucked within the four walls of the magical Old City. Divided into the Armenian Quarter, Christian Quarter, Jewish Quarter, and Muslim Quarter, the Old City offers visitors the unparalleled experience of a Middle-Eastern bazaar.
The Muslim Quarter is not only the largest and most populous of the four quarters, but arguably the most exciting. It is a vibrant, winding labyrinth of seemingly endless shops, bustling with a mix of shopkeepers, locals, and tourists. The souk-style shopping here is home to a rich array of jewelry, textiles, incenses, spices, rugs, lamps, and more. Some bargaining is done here, but you'll know when a shopkeeper is not budging on a price. You'll even see the occasional American baseball t-shirt with team logos written in Hebrew! Fruits and vegetables, pastries, olive oils, meats, and more are sold here as well. The quarter also boasts small cafes, presenting the perfect opportunity for a quick bite or a cup of some famous Turkish coffee as you unwind from the hustle and bustle.

There is a wealth of things to shop for in Jerusalem's Old City, including apparel, textiles, religious items, food, and more.
While the Muslim Quarter may be home to the most shopping in the Old City, the Armenian, Christian, and Jewish quarters cannot be missed. They are typically less busy and offer less of a variety of goods, but they are quite different from the Muslim Quarter and speak to the distinct nature of their respective histories and inhabitants. Each quarter offers an abundance of religious souvenirs such as rosaries, crosses, icons, archaeological artifacts, nativity sets, and more.
However, don't end your Jerusalem shopping experience just yet: even more lies outside the Old City's walls.
Just northwest of the Jaffa Gate is the upscale and trendy Mamilla Mall, Jerusalem's only open-air mall. It is home to 140 international chain stores, unique Israeli boutiques, and several restaurants. Its modern feel is a testament to the contemporary sensibility woven into Jerusalem's otherwise historic feel. You'll find a little bit of everything at the Mamilla Mall—luxury jewelry, clothing, fine wines, historic coins, skin care products, and more. The vibrant street mall exhibits local artwork, and frequently serves as a venue for street performers and festivals. The mall is popular among tourists and locals alike, and is centrally-located, making for a nice stop during some free time in your itinerary.
A nighttime view of the upscale open-air Mamilla Mall in Jerusalem.
Also rather centrally-located is First Station, a revamped historic railway station that has become a lively entertainment venue. Abandoned for several years, the 19th-century station has been updated with some rather whimsical architecture and décor, and has taken on new life as a home to restaurants and food stalls, vendors selling local crafts and goods, live music, games, festivals, and more. As an added bonus—First Station is open on the Sabbath.
One of illume's favorite shops in Jerusalem is Perfuniq, a small perfume shop with a rather simple concept—to create a perfume that is entirely unique to you. The warm and knowledgeable staff conducts a casual interview, asking questions about your likes and dislikes, favorite foods, where you like to vacation, etc. They then pull various scents together from their massive display, and allow you to both nix and suggest ideas until a combination of scents has exceeded your expectations. From there, you watch your customized perfume be concocted as the staff educates you on the science of scent. Best of all—they keep record of your perfume's formula, so you can order it again!
Bottles of fragrances line the walls at Perfuniq, a make-your-own perfume shop near the Mamilla Mall in Jerusalem.
Tax-free options and reimbursements
If you find that one or more of your purchases in Israel exceeds 400 shekels, it may qualify for a VAT (Value Added Tax) refund. This tax is often added on to merchandise purchased by tourists, but the good news is that you can apply for a refund prior to check-in at the airport's VAT counter before your departure home. You will need an invoice, receipt, and the item when applying for your refund. It is a fairly easy process, and you'll end up with some money back in your pocket. The counter is clearly marked, but a member of the tour management team will be able to assist you in getting there.
We hope you will have a transformative pilgrimage experience and find souvenirs that remind you of the wonderful land you will visit. If there are special shops or information you would like to share with future Illume travelers, send us information at: info@travelillume.com
Blessed Journeys!
---
Shopping index
Glass and Ceramics - Hebron, Jericho, Old City of Jerusalem
Religious articles - most sites
Dead Sea cosmetics - Masada, Qumran
Olive wood products - Bethlehem
Clothes and textiles - Old City of Jerusalem
Upscale items - Mamilla Mall in Jerusalem