Oct 09 - 18, 2023
Our Lady of the Lake

The Treasures of Ireland: An Exploration of the Folklore, the People, the Spirituality, and the Breathtaking Landscape of Ireland
program number
23.10629
Learn More

Join Father Tim Clark on an inspiring journey to Ireland.  This is a customized itinerary exploring religious, cultural, and historical treasures of Ireland.  We will fly into and out of Dublin, a dynamic modern city with deep historical roots.  We will explore the impressive library at Trinity College with illustrated Gospels from Celtic Christian times.  We travel then to the western part of Ireland, stopping enroute at one of the more important monastic centers of early Christianity – in Clonmacnoise. We travel to Croagh Patrick, a spiritually significant mountain dating back to Neolithic times but, in the Christian era, from at least the 5th century, associated with Christianity and St. Patrick.  It is a major pilgrimage destination. We will base in Galway as we explore the Connemara region. Late we transfer to another base, Killarney, as we travel through the Burren region and the Cliffs of Moher.  We will visit the scenic Ring of Kerry and learn more about Skellig Michael – an ancient Christian island.  We make our way back to Dublin via Cashel and the beautiful medieval town of Kilkenny.  We will visit Glendalough, another historic monastic complex enroute to Dublin.  Throughout, we will visit local Irish centers of culture, history, art, and spirituality. Our local guide will open doors to special exhibits and museums.  Throughout, Fr. Clark will celebrate liturgy in historic venues.  This is a wonderful program that brings to life the spirituality, folklore, and traditions of the Irish people.  Don't miss it!
Program Itinerary

Monday, October 9, 2023
We depart on our overnight flight from Seattle to Dublin.

Tuesday, October 10, 2023
Arrival Dublin. We will enjoy a bus orientation en route to the hotel for check in.  We will then have time to unpack, freshen up, adjust to new time zone and explore the neighborhood.  We gather this evening for a welcome dinner at a local restaurant. Overnight Dublin.

Wednesday, October 11, 2023
Breakfast.  Today our local guide will facilitate visit of historic sites in Dublin, including Christ Church Cathedral (the Anglican seat in Dublin), St. Patrick's Cathedral, Trinity College (including the treasury/library with important historical manuscripts – such as the Book of Kells, Book of Durrow, and Book of Armagh – all early copies of the Gospels sued by Celtic Christians), and Dublin Castle.  Mass will be celebrated today at the Catholic University Church - Our Lady Seat of Wisdom.  This afternoon we will visit the Guinness Storehouse, then some free time in the afternoon for people to explore on their own.  This evening include a  dinner at a local brewery. Overnight Dublin.
Image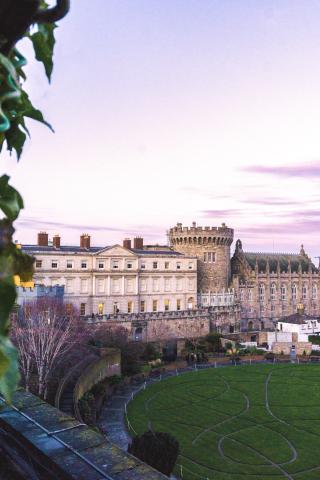 Thursday, October 12, 2023
Breakfast.  Today, we travel to Clonmacnoise.  This is a beautiful monastic site founded in the 5th century by St. Kieran and burial site of the Kings of Connaught and Tara.  Most of the ruins are from the 9th century or later.  The visitor center includes the original high crosses (Celtic-style crosses) and stone grave slabs representing the advanced stone carving school here.  The site includes a great round tower and other monastic ruins. Continue on to Galway.  Mass at the Cathedral. Depending on time and interest, there will be a walking tour of the central historic part of town.  This is a beautiful town along the Corrib River.  Dinner/overnight Galway.
Image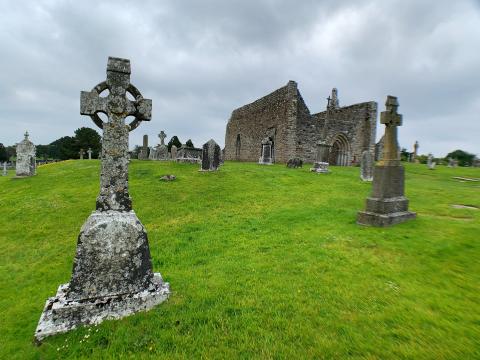 Friday, October 13, 2023
Breakfast.  Today, we enjoy an excursion through the Connemara Region and Croagh Patrick.  Drive along the beautiful and spectacular Sky Road, visit the Kylemore Abbey (a 19th century castle where Benedictine Nuns make pottery) and Croagh Patrick (traditional site where Patrick preached and the snakes of Ireland plunged to their death).  There are several visitor centers in this area worth visiting that demonstrate local expertise in wool and other traditional crafts that will be included at the discretion of the tour manager/guides.  Mass at Croagh Patrick. Return to Galway for overnight and dinner.

Saturday, October 14, 2023
Breakfast.  Today, we travel to the Burren region.  Visit the Corcomroe Abbey,  the megalithic tombs, the Kilfenora High Crosses and the Cliffs of Moher (spectacular site along the coast). Continue to Killarney for dinner and overnight.  
Image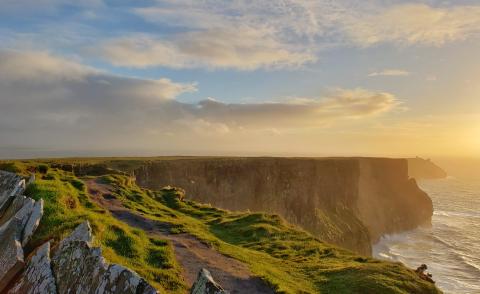 Sunday, October 15, 2023
Breakfast. Today we celebrate Mass at St. Mary's Cathedral. Travel along Ring of Kerry Road and visit the Skellig Michael Visitor Center, explaining  the history and importance of the oratories, the beehive cells and the lighthouses on Skellig Island. There will be a light lunch in the area.  Return to Killarney with free time to relax and enjoy the natural beauty of this site – a national park - (perhaps with some hiking).  Dinner and overnight in Killarney.

Monday, October 16, 2023
Breakfast.  We travel to Cashel (a royal center from the 4th to 12th  century).  St. Patrick baptized King Aengus here.  Later, in the 12th century, a cathedral was built here.  This fabulous Cathedral/Rock includes ruins from the 12th, 13th and 15th centuries.     We continue to Kilkenny, a beautiful medieval town and castle.  Visit the Kilkenny Castle, St. Canice's Cathedral, and the town center. Mass at St. Mary's Roman Catholic Cathedral.  Time permitting, there will be a visit to Smithwicks Experience to learn about Ireland's ales. Dinner at a local pub.  Overnight Kilkenny.
Image


Tuesday, October 17, 2023
Breakfast.  Today, we travel to Glendalough en route to Dublin.  Glendalough is a monastic site from the 7th century (founded by St. Kevin).  It was quite active until the 14th century.  It is a beautiful site with round tower, cathedral, high crosses and areas for hiking.  Perhaps include Mass here. Continue to Dublin.  Remainder of afternoon free for people to shop and explore the historic city center at their own pace.  Farewell dinner at a local restaurant and overnight Dublin.

Wednesday, October 18, 2023
Breakfast.  Transfer to airport for return flight to Seattle.
 
Inclusive Features:
Roundtrip flights Seattle-Dublin, 8-nights accommodations in centrally located 4-star hotels, breakfast and dinner daily, one lunch, local transportation via deluxe motorcoach, a full-time local tour manager and guide, and entrances and guided visits per the itinerary. 
Complete Program Prices:
Includes group airfare and airport transfers
$5100 per person based on double occupancy
$825 supplement for single occupancy
Land Only Program Prices:
Excludes group airfare and airport transfers
$4300 per person based on double occupancy
$825 supplement for single occupancy
Please note: Single rooms for single use are limited to 10% of the total number of rooms reserved. Should additional single rooms be requested, hotels may impose a higher supplement for all single rooms of $1100. If you have selected double occupancy but no roommate is available due to uneven numbers or if your roommate should cancel you will be in a single room and responsible for the single room supplement.
All prices listed are discounted for payment by check. When paying with a credit card, you will be charged the standard base price, which is 5% higher.
All program prices are based on availability of services at the time registration material is received; currency exchange rates in effect March 6, 2023 —and on 2023 land and air tariffs—and are subject to change. All services are provided subject to Illume's Conditions and Clauses.
The program prices will be reviewed before the invoices for the final payment are mailed, and will reflect the current prices.
Program Registration:
With questions, please contact:

Torrie Smith
tsmith@ollseattle.org
206-523-6776 ex 112
 
Step 1: Complete the Event Registration Form before April 15, 2023
Step 2: Submit your $1500 deposit check per person to illume not later than April 15, 2023:
illume
236 Lewis Wharf
Boston, MA 02110
Checks should be made payable to illume. Please include the program number 23.10629 on the memo line. 
You will receive a Welcome E-mail from illume after April 15, 2023. You will also receive a link to add optional Travel Insurance/Protection to your program at that time.
Nonrefundable second deposit of $1500 per person due not later than: May 15, 2023
Balance of payment due not later than: July 1, 2023
Note: Any changes to the program will be outlined in the final documents which you will receive one month prior to departure. If changes are made that affect the program price, you will receive an invoice or a credit accordingly.
Program No. 23.10629

 

CONTACT US